"THE SPRING FAIR"
drawn by a Bethesda Student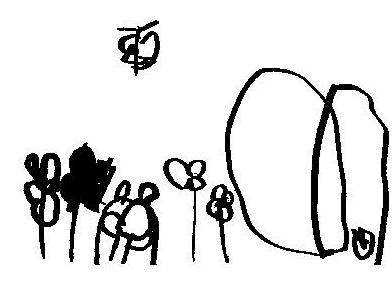 The Spring Fair is an annual tradtion
that all students look forward to.
Games, food, prizes, live performances,
and a tag sale are just some of the
activities that help raise money
for scholarships to the school.

Bethesda Nursery School's Summer Program is designed to take advantage of the naturally relaxed pace of summer. Kids have fun while learning in our spacious playground, with its perfect combination of shaded and sunny areas. Easels, bikes, slip'n' slide and sprinklers and hoses are frequent fun offerings! We seize this opportunity to explore our messiest experiences and activities are planned to stimulate creativity within independent and group play. When children and teachers are happy to be in school, we know we are on the right course!
Summer Program - June 17 - July 26, 2019
Week 1: June 17-21: Magical Creatures of Yore: Unicorns, Dragons & Wizards!
Week 2: June 24-28: Zoo Haven: Take a Walk On the Wild (Animal) Side!
Week 3: July 1-5 (no 4th): Messy Art Week! All the Stuff You Can't Do at Home!
Week 4: July 8-12: Mystery Madness: Detectives, Hidden Treasures & Riddles!
Week 5: July 15-19: Weird Science!
Week 6: July 23-27: The Ice Age: Frozen Fun & the Ice Cream Truck!
8:15am - 1pm 3pm extension
Two days $120 per week $160 per week
Three days $180 per week $240 per week
Four days $240 per week $320 per week
Five days $300 per week $400 per week
Parents take turns providing snack for the group and lunches are brought from home.
A minimum enrollment of three consecutive weeks is recommended for children just beginning our program.
Tuition is to be paid in full by the first day of summer program.
If you wish to enroll your child in the summer program please complete and return all the enclosed forms along with a $200 deposit as soon as possible. Enrollment is limited and is on a first-come, first-served basis. No program on Thursday, July 4th. Children enrolled on the 4th may choose another day as a make-up day. Each child who attends Summer Program will receive a free T-shirt!
*Advanced registration encouraged. Tuition rates are for advanced registration only. Tuition after 6/17/19 may increase.