"THE PLAYGROUND"
drawn by a Bethesda Student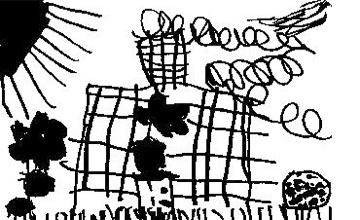 Outside play is a daily activity at Bethesda,
and children play on the playground
year-round. If it's raining or very cold,
Bethesda has a large, open space called the Campanius Room for active indoor play too.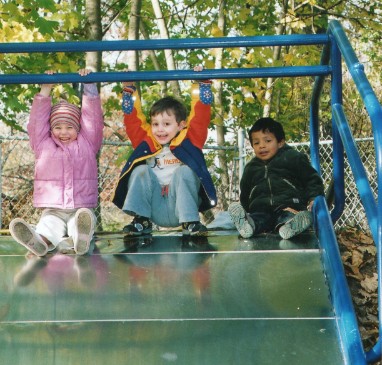 Students enjoy the slide on Bethesda's
famous playground. The playground
was designed by a parent and includes
unusual plantings, a huge slide built into a
small hill, and a sweet blue playhouse that
encourages the best of imaginative play.
ABOUT US
Bethesda Nursery School serves three, four, and five year-old children. Children may begin school at the age of 2 years 8 months. We are a mixed-age program so every day we have three, four, and five-year olds together in our classroom. We believe this creates wonderful opportunities for children to teach and learn from one another.

Our program is child-centered and based on the principles of developmentally appropriate practice. Every day, we offer a wide array of activities. Our schedule includes times for student-directed and teacher-led activities, large and small groupings, and active times and rest times. Students participate in art or cooking activities, science projects, music, reading, and outdoor time on a daily basis. For a typical daily schedule, click here.
Families may choose to enroll a child for a two, three, or five day-a-week schedule. Children begin arriving at 8:15 a.m. Most arrive by 9 a.m., although later arrivals may be accommodated. We have two departure times. Some children leave at 1 p.m. after lunch. Others stay for an extended day and leave at 3:00 p.m. after rest time and additional time to play.
Students bring their own lunches each day, and each family is asked to provide a healthy snack about two times per year. Two days each week, the children help to prepare a snack for the class.
Our class size is no larger than 30 students per day with five teachers for a 6 to 1 ratio of students to staff. Our classes represent a diverse group of students who typically come from many different nationalities and speak several different languages. Family members are welcome at any time and are actively encouraged to join us on any day.

We operate on a school-year calendar. Our first day is the day after Labor Day in September, and school continues through the first full week of June. We close for national holidays and have one two-week break in December, a short February break, and a longer Aril break. We also operate a summer program that runs two weeks in June and four weeks in July. Families enroll separately for the summer program and may choose which weeks to attend.

Tuition costs vary according to the number of days a child is enrolled and whether the child departs at 1 or 3 p.m. You can obtain the current tuition schedule by contacting the director at 203-787-5439.