"THE GOODBYE WINDOW"
drawn by a Bethesda Student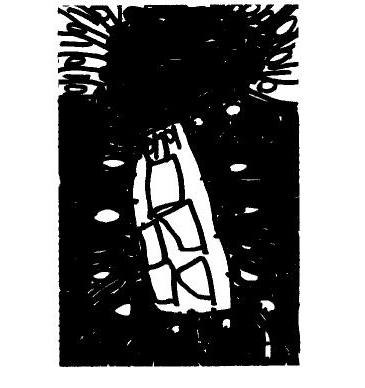 The Goodbye Window is a Bethesda tradition
that helps children separate from their
families by waving goodbye through
the memorable window.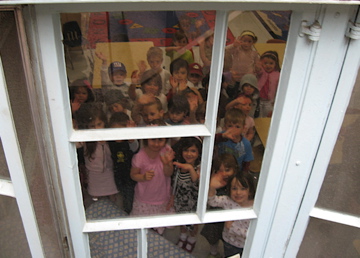 The view through the goodbye window.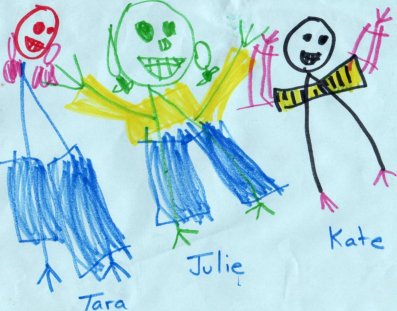 A portrait of three happy teachers
drawn by a Bethesda student.
OUR TEACHERS
A strong teaching staff is defined by experience, continuity, and continued growth. At Bethesda Nursery School, we recognize our teachers to be our primary asset.

Our teachers are enthusiastic, educated, and involved in continuing their own professional development.

SARA GANNON, Director & Teacher
(M.A., Early Childhood Special Education, Southern Connecticut State University; B.A., Psychology, Southern Connecticut State University)
Sara has been teaching at Bethesda since 2003 and has been the director since 2013. She has a master's degree in Early Childhood Special Education and is a Connecticut certified teacher for pre-K to grade 3. She is active in the early childhood community, serving as a board member of the Greater New Haven Region Chapter of the National Association for the Education of Young Children. She is married to Brian and has two children, a son, Tyler, and a daughter, Brianna.
KATE FLANAGAN, Senior Teacher
(B.A., Fine Arts, Tufts University)
Kate has been teaching at Bethesda since 2003. She has been assistant editor of The Horn Book Magazine, a children's literature journal, as well as a children's book reviewer. She is a free-lance illustrator whose work has been primarily for the educational publishing market. She is also the author-illustrator of an easy reader. Kate is married to Tom and is the mother of three Bethesda grads, Molly, Francis X. and Tim; she is also the grandmother of Liam, Patrick, Jamie, Reid and Lily.
JENNI KIRKPATRICK, Teacher
(M.A., Bank Street College of Education; B.A., Psychology, Williams College)
Jenni has been teaching at Bethesda since 2017. She is a former Bethesda parent who previously taught preschool in New York. She also has experience with older children in the New Haven area and elsewhere and has worked in educational publishing and fundraising as well.
MOLLY DURSO-SMITH, Teacher
(A.A., Early Childhood Inclusive Education, Housatonic Community College)
Molly began teaching at Bethesda in 2017. She studied Musical Theater at Temple University and currently channels her love of music into singing and playing both the guitar and violin. Molly also loves animals and enjoys running around with her dog Bailey.